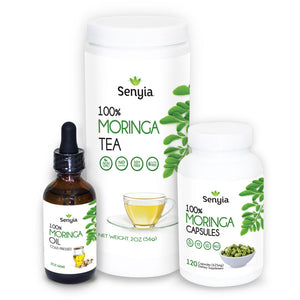 Senyia Moringa On the Go Kit – Includes:
✔ SENYIA MORINGA Capsules.120 (625mg / Capsule). These powerful veggie capsules contain 625mg of the Moringa active ingredient and are the easiest way to consume this super food supplement.
✔ SENYIA MORINGA TEA. 2oz (56g). 100% natural Moringa Oleifera leaves. It refreshes you instantly while keeping you healthy for the day. Sixty servings (I teaspoon 2 servings)
✔SENYIA MORINGA OIL 2oz. - 100% Pure Virgin Cold Pressed. Homeopathic Oil.
These statements have not been evaluated by the FDA. Each product is not intended to diagnose, treat, cure or prevent any disease.